Leaside Park Community Garden
The Leaside Park Community Garden (LPCG) was developed in partnership with the Thorncliffe Park Urban Farmers and Thorncliffe Neighbourhood Office (TNO) in 2015. It is a food-growing, gardening, and learning space for residents and community members of all ages. The garden is open from April to the end of October. We welcome individuals, families, school and other program groups from Thorncliffe and Flemingdon Park.
The garden is like a "community farm", with rows of vegetables that are maintained by residents/community members (volunteers) for the benefit of the community. We grow a wide variety of culturally appropriate vegetables including several types of tomatoes, cucumbers, okra, peppers, eggplants, and more. Most of the plants are grown from seed right here in Thorncliffe Park.
Since the first season we have planted many types of vegetables in rows in approximately half of the 0.4-acre area. There are also 5 raised garden beds and some of individual allotments. By having communal/shared space, rather than plots/allotments, many more people can have access to fresh produce and can benefit from the space. Last year we produced over 400 pounds of food.
Sustainable growing practices are used, the most important being that absolutely no chemicals will ever be used and organic plant varieties are used whenever possible. It is also a priority to maintain the ecological health of the area by creating bee and butterfly habitat by using native plant species.
Volunteers come to the garden during scheduled group gardening times (several times a week, morning and evening) as often as they like, usually at least once a week for 1-2 hours. Volunteer gardeners also spend time in the garden on their own time, tending the plants and enjoying the environment. Due to the pandemic, we have been following Toronto Public Health guidelines and visitors are not permitted at this time.
Vegetable harvesting is done as a group in order to ensure that everyone gets a fair amount. The harvest is distributed – as it becomes available – among those who come to the space to grow and learn, as well as to community members in need and to local food banks. This year, a big thank you goes to Shakhlo Sharipova, Founder, Thorncliffe Park Autism Support Network, for coordinating the donations to families connected with her group.
Learn about food-growing and gardening in an urban environment
Participate in group gardening and harvest with us
Gather and share gardening knowledge, feedback, recipes, and stories
Plant vegetable, herb, fruit and flower seedlings and seeds
Prepare the rows for planting/seeding by weeding, spreading compost, and polishing the pathways
Watering the shared plants
Lightly weed the rows, thin seedlings, and prune plants when needed (general crop maintenance)
 "Put the garden to bed" for the winter
Participate in the planning for the next season
Open to all residents living in Thorncliffe and Flemingdon Park.  Volunteers will participate in the activities listed here in the shared/communal area, depending on what they are comfortable with. Youth aged 13+ will receive volunteer hours. 
**Currently, we do not have any allotments available. Allotments will be advertised when they become available. Those with individual allotments are welcome to participate in all volunteer activities in the shared/communal area.
Time: April to end of October
Phone: 416-424-2900 x 36
Email: ijahan@tno-toronto.org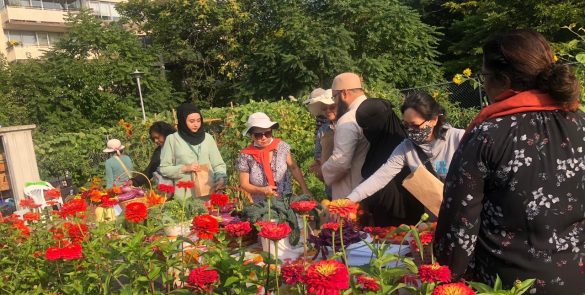 Leaside Community Garden article by J. Chew